What is Autocharge?
All cars that use a CCS connector to fast charge can make use of Autocharge. These cars can start a charge session without using an app or EV charge card after activating Autocharge. Just plugin and your session will start.

Please note: Unfortunately it is not possible to use Autocharge with the following vehicles:
Audi e-tron (model 2018, cannot be guaranteed for model 2019) & Q4 e-tron
Cupra Born
Maxus eDeliver
Mazda MX-30
Volkswagen e-Up!, e-Golf, ID.3, ID.4 & ID.5
Seat Mii electric
Skoda Citigo e-iV & Enyaq iV
How does it work?
To use Autocharge you first need to create a Fastned account. In the registration process, you will be able to add autocharge for your vehicle, if supported for your car. You have already a Fastned account? Great!
Open the Fastned app, go to your profile and choose under 'My Vehicles' the vehicle you want to connect to Autocharge. Choose "yes" for 'autocharge activated'.
Start the next charging session with the Fastned app. During this charging session, your car is connected to your Fastned account.
Note: For activating Autocharge; first insert the connector into the vehicle and then start a charge session via the Fastned app. When your Autocharge is succesfully activated, you'll be notified in the app.
From now on, you can charge at Fastned without the app or your EV charge card. Just plug in and your session will start.
You can stop charging by pressing the 'Stop' button in the screen of the charger.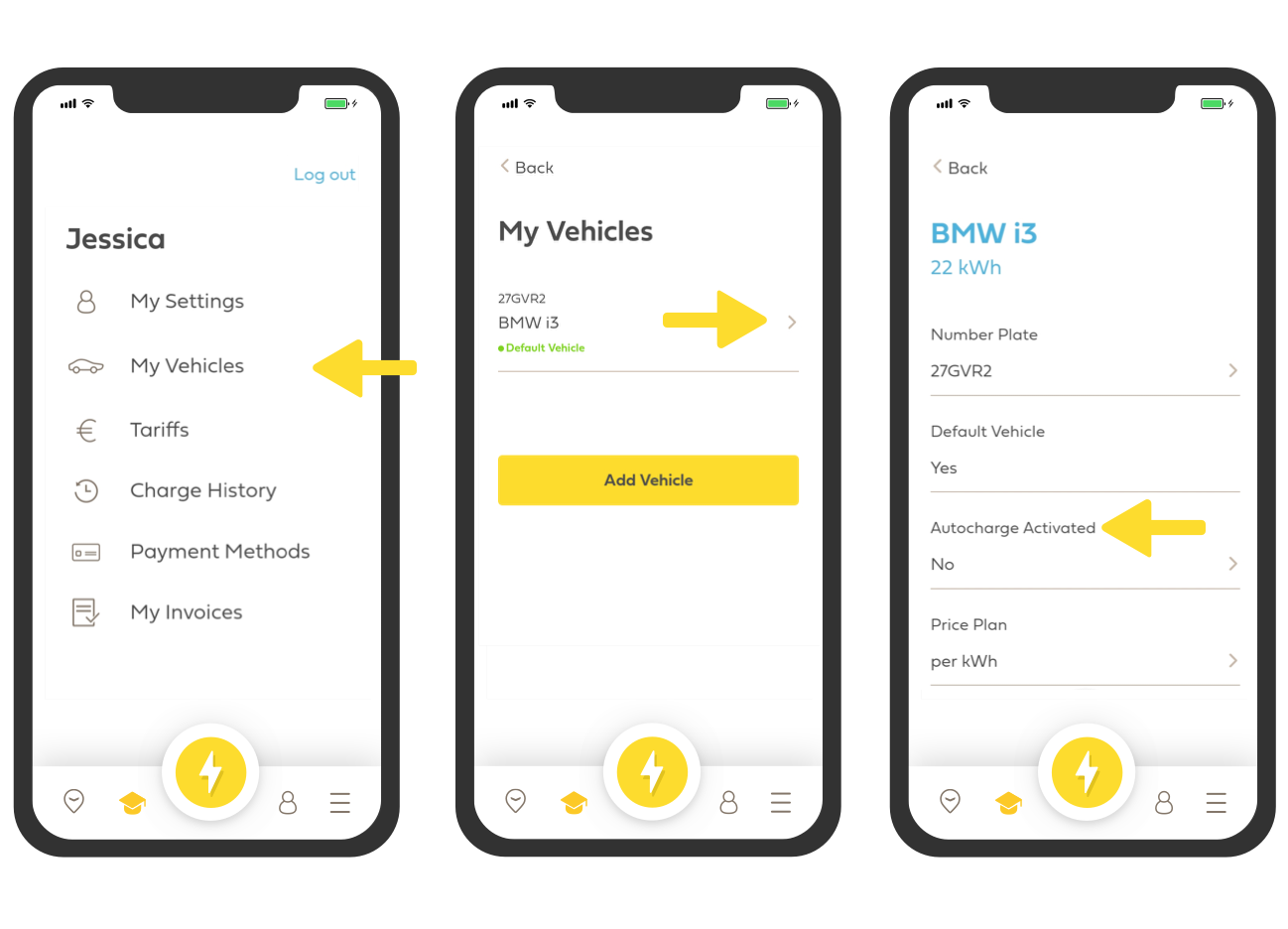 Tip: It can still be practical to keep the app and/or EV charge card at hand in case Autocharge does not work as expected.

How can I (temporarily) deactivate Autocharge?
You can manage your car(s) via the Fastned app. You can deactivate Autocharge for each car via 'My vehicles' menu. You can reactivate Autocharge at any moment. You do not have to reconnect your car to your account.
Please remember to deactivate Autocharge if you sell your car.
Please note: if you don't use Autocharge for a 100 days we will deactivate Autocharge for your car. You can always reactivate this again in the Fastned app.
Why is Autocharge not available for AC and CHAdeMO cars?
Only the CCS-protocol sends a unique code for each vehicle and this is not the case for cars with an AC or CHAdeMO connector. That is the reason why Autocharge cannot be used with these cars.

Is Autocharge secure?
Each car with a CCS connector has a unique code that is exchanged with the charger when the connector is inserted into the car. Unlike the unique code of a charging code the unique code of a car is very hard to copy or modify.