If you drive an Audi e-tron, then you use the CCS connector. Please ensure that you insert the connector properly.
The charge speed is up to 150 kW at our 175- and 350 kW fast chargers and up to 50 kW at our other chargers. In the charge curve below you can see the charge speed at both chargers. On average the e-tron charges 100 km in 10 minutes (175 kW charger) or in 30 minutes (50 kW charger). At a 175 kW charger the charge speed will slowly drop as of 80%. At a 50 kW charger this happens only at 98%.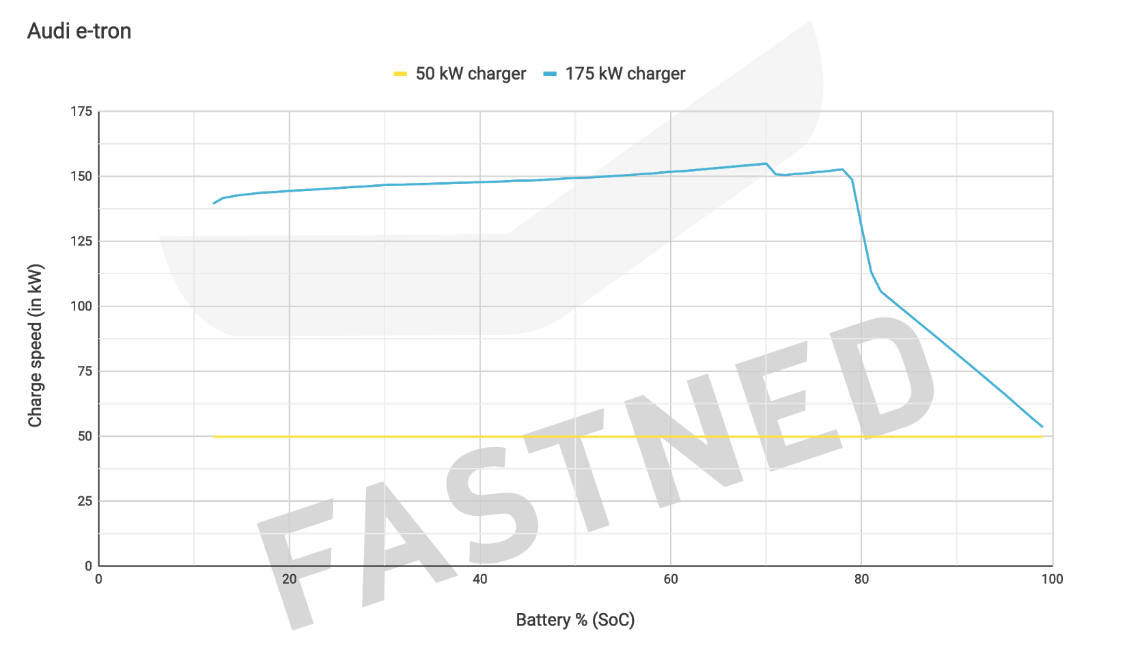 Autocharge
Due to an unexpected technical problem, it is not possible to use autocharge with an Audi e-tron. We are currently working on finding a solution.
Start charge session
The Audi e-tron has regularly problems starting a charge session. This is caused by the fact that the connector does not make a proper contact, which interferes with the communication between the car and the charger.
Our advice is to first start the charge session with the Fastned app or the EV charge card, and then connect the connector to the car. It is important to push the connector firmly into the charge port until the charge session has started. If you experience this problem more often, you should contact your Audi dealer to have the charge port checked.
Unlock the connector
In some cases the car may not release the connector.
Make sure the car is unlocked and press the button next to the charging port a few times (the one that opens the charge port). If the connector is not removed within 30 seconds, it will be locked again automatically.
Should you still not be able to remove the connector, you can use the emergency release in the motor compartment (at your own risk). Open the bonnet and the cover in the motor compartment (on the side of the connector). Release the yellow ring from the holder and carefully pull it (the red ring is for the charging unit cover). You can now unplug the connector.